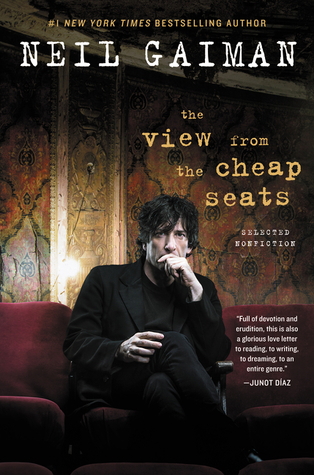 There are books that should be read in pairs, and Neil Gaiman's
The View from the Cheap Seats
and Terry Pratchett's
A Slip of the Keyboard
are two that belong together. In fact, the introduction to Pratchett's collected nonfiction is the final essay in Gaiman's collection. If you need a third book (because trilogies are in these days), I would say add Jo Walton's
What Makes This Book So Great
.
All three collections are from fantasy/science fiction writers who are the best in the game. You will come away with lists and lists of "new" classic authors to check out. (Here's my compilation of
Jo Walton's suggestions
.)
Here's a short list of the titles and authors I gleaned from
The View from the Cheap Seats
:
Shatterday
by Harlan Ellison;
The Hellbound Heart
by Clive Barker;
Billion Year Spree
by Brian W. Aldiss;
Ghastly Beyond Belief: The Science Fiction and Fantasy Book of Quotations
by Neil Gaiman;
Lud-in-the-Mist
by Hope Mirrlees;
Cerebus
by Dave Sim;
The Innocence and Wisdom of Father Brown
by G.K. Chesterton;
The 13 Clocks
by James Thurber;
Votan and Other Novels
by John James;
Anyhow Stories, Moral and Otherwise
by Lucy Clifford; and
The King of Elfland's Daughter
by Lord Dunsany.
That doesn't include the authors who are already my favorites:
Susanna Clarke
,
Diana Wynne Jones
,
C.S. Lewis
,
Douglas Adams
, and so on. In fact, after years of reading fantasy and science fiction, lists like Gaiman's and Walton's make me feel hopelessly uninformed. And it seems Gaiman knows
everyone
. The literary world must be small!
I'm not going to go into detail about each essay, but there is one that goes with this picture that makes it just priceless.
So Quotable:
"Sometimes fiction is a way of coping with the poison of the world in a way that lets us survive it." - 22
"But then, I don't get only supporting the freedom of the kind of speech you like. If speech needs defending, it's probably because it's upsetting someone." - 74
"Kids censor their own reading, and dullness is the ultimate deterrent." - 85
"What speculative fiction is really good at is not the future, but the present." - 178
"...it would be a poor sort of world if one were only able to read authors who expressed points of view that one agreed with entirely. It would be a bland sort of world if we could not spend time with people who thought differently, and who saw the world from a different place." - 326
"And now go, and make interesting mistakes, make amazing mistakes, make glorious and fantastic mistakes. Break rules. Leave the world more interesting for your being here.
Make good art.
" - 459