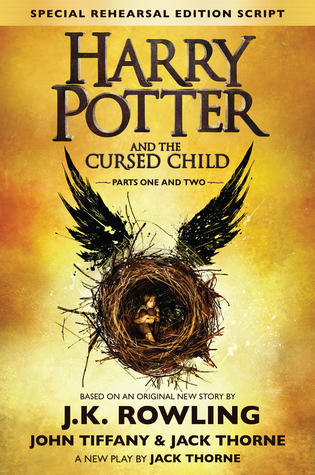 In
looking at this cover
, please note the words "Original Rehearsal Script". For those of you dying to read another 600-page Harry Potter novel, this is not it.
Instead, this is the script for a stage play. You can finish it in an hour or two, faster if you're an Evelyn Woods graduate!
This is not the door-stopper I hoped for, but I'm still glad I read it. Rowling revisits her themes of family and friendship, and Harry's tragic past, but with new characters. I was glad that she FINALLY made some sympathetic, non-bullying Slytherin characters. (Yeah, Snape was a bully. Even if his death was heroic, he was still a jerk most of the time.)
I don't want to give away the story here, but it follows Harry's son Albus Severus (poor kid!) and Draco Malfoy's son Scorpius (um, a name a former Death Eater probably should have avoided giving his kid) from the postscript of the seventh book to their own difficult Hogwarts careers. We see all of the familiar characters and places (though as
one reviewer rightly pointed out,
Ron has been relegated to comedic relief, and that's a disservice to his character), sped up decades into the future.
I got misty, I laughed, and I am still desperately hopeful that Rowling with revisit the wizarding world she invented, even if she never writes Harry's name ever again. There are so many stories she could tell, and I'm the kind of girl who loves me an extended universe.
I am also dying to see the play, just to see how they manage the special effects.